Selecting a cold storage which best fits your requirements can be perplexing. There are major concerns like costs, energy efficiency, maintainability, ability of the storage to maintain stable temperatures year by year etc.
Cold storage manufacturers make cold rooms of different measurements, equipped with various features and components to suit the requirements of the buyer. To give you an idea, an industrial freezer room can keep temperatures in the range of -60°C to 15°C.
You need to address a number of aspects before deciding to buy a cold room. Our team at IRL will be more than happy to guide you through these concerns.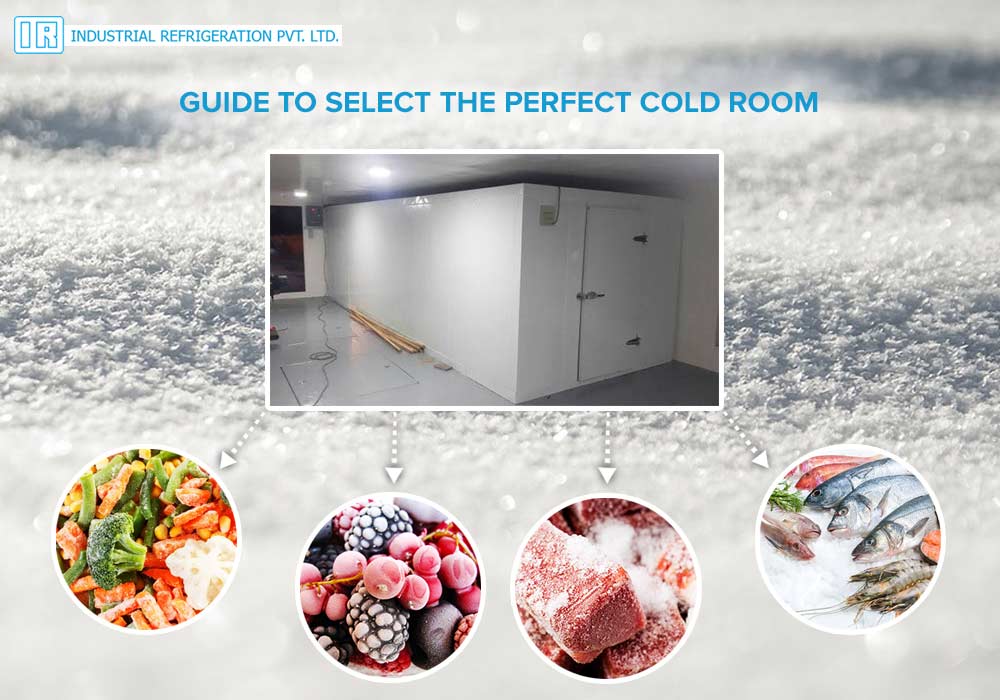 For what purpose you wish to buy the cold storage? Do you need a laboratory cold room for pharmaceutical requirements or a commercial cold room for the needs of hospitality industry?
An industrial cold room not only safeguards seafood, farm produce, other horticultural/agricultural supplies and pharmaceuticals, but it can also preserves operational IT servers & equipment whose performance and lifespan get adversely affected by the heat they generate.
Food processing, hospitality, entertainment, supermarkets, chemical industry, oil & gas industry, and manufacturing industry find wide applications of cold rooms that are durable, hard-wearing, easy-to-maintain & easy-to-clean. You can reach out to our team of experts at IRL, a cold storage room manufacturer, for any assistance to arrive at the best fit for your cold storage requirements.
Capacity of the cold storage
Your operational prerequisite should determine this aspect. How quickly your stock is spent indicates the capacity of cold room you need.
The size of your cold storage should exceed the bulk of stock you wish to preserve. It should have ample space for racks, shelves, aisle space to roll bulk of food items in and out, airflow etc. Volume of the products, gap between the wall, pile and ceiling – all these aspects need attention.
The cold storage manufacturing companies recommend installing larger cold room (which is around 40% larger than your need) than installing many smaller cold storages to provide the equivalent chilling facility. Standard height of a cold room is well over 2 meters.
Also, with smaller cold rooms, a time eventually comes when the stock is cramped due to lack of space or it gets degraded due to poor aeration. Although, a smaller cold storage is suitable if you are running a restaurant.
Bear in mind that under-utilizing an industrial cold room doesn't reduce its operating costs.
Temperature range needed in the cold storage
You must understand that different stock requires different range of temperature for preservation.
For instance, items to be preserved for shorter duration like vegetables, fruits, cooked meat, natural product, milk, cream baked goods, sauces etc. must be stored at temperatures around 3°C to 12°C to prevent microbial action.
Raw seafood, meats and some dairy items require temperature range from -3°C to 4°C. For longer duration storage of raw food material (like solidified veggies, meat, chicken, dessert, bread, pasties etc.), temperature must be maintained from -5°C to -20°C.
Similarly, a pharma organization would employ a pharmaceutical cold room for preserving different under-trial medicines which require different temperatures for storage.
Panels & insulations: Cold storage constructed on site should have wall panel insulation rating of R-30 (i.e. a 4-inch thickness). Panels (of walls, ceilings and floors) are most commonly equipped with polyurethane for insulation from the inside while the outside panels may be of stainless steel (most expensive) or aluminum (least expensive, most weather resistant & thus most popular choice).
Lighting: There should be adequate lighting (LED preferably) in the interiors of the cold room. The staff must be able to turn on the lights both from the inside and from the outside of the storage. The light bulbs inside the cooler should be unbreakable and vapor proof. LED bulbs consume 90% lesser energy than traditional incandescent bulbs.
Door: The door of the cold storage should open to the outside and should come with a heavy-duty door closer and self-closing, cam-lift door hinges. The cam keeps the door opened if it opened past 90° angle. The door should have an interior safety release mechanism so that a person doesn't get accidently locked inside the cooler. Strip curtains (made of transparent or tinted PVC) on the doors act as an extra barrier to keep the cold air inside and the hot air & unwanted airborne particles from coming in.
Alarm system: It is wise to equip the cold storage with an alarm system to notify you of sudden variations in temperatures inside the cooler. For instance, if a door is left open for a long time, the system would detect it and alarm you.
Thermometers:: Consider placing multiple thermometers in strategic areas of the cold storage to ensure a consistent temperature is maintained inside the interior of the storage. Thermometers can be coupled with a data logger which records & organizes the temperature data in spreadsheets that are accessible online for download.
Flooring: You can get installed a protected floor which ensures a stable temperature inside the cold storage. This is certainly an added advantage in hotter situations.
You can also have other accessories like a foot treadle to open the door with your foot if your hands are full, or a non-skid tape around the freeing area so that one does not slip or skid accidently.
Purchase cost increases with the number of features you wish to be added in your cold storage.
Refrigeration system of the cold storage
A cold storage or walk-in freezer has an evaporator to draw out the heat from the cold room's interiors and a condenser which discharges the hot air. If you require your cold room to be a solitary temperature zone, pick clip-on refrigeration.
Then, there is the remote refrigeration framework which isolates the evaporator and the condenser units by linking them through pipelines. This architecture is better at discharging the heat & thus excellent for extensive storage spaces.
If you want multiple cold rooms for vast operations, then a centralized refrigeration system will be the best option to cool all of them.
Cold storage's energy efficiency
A cold storage with high-efficiency compressor yields energy savings of 4-10%, electronically commutated condenser or evaporator fan motors can further save 3-19% in energy; LED lighting, polyurethane foam-based proper structural insulation (25mm thick usually), automated door & excellent sealing – all of these combined can make your cold storage, on an average, 12% more energy efficient.
As compared to a smaller cold room, the air inside a larger cold storage warms up slower i.e. the temperature inside a larger one remains stable for a longer time. So, to maintain the optimum operating temperature, the cooling system needn't work that hard.
Obviously, it is more energy-efficient to operate one cold room instead of many smaller ones. The only question is whether that one cold room meets all your storage requirements.
Depending on the stock turnover, outside temperature, temperature of the incoming product & the usage of the cold storage, the energy consumption of a cold storage ranges from 30kWh/m3/year to 50kWh/m3/year. You can calculate the yearly cost of operating the cold room based on the electricity charges in your area.
Be ready to deal with regular maintenance
Cold storage manufacturers always recommend regular maintenance for a longer service life of your cold storage. It can help you save around 5% of your energy costs.
Frequent checks of the cold storage components like the cooling unit, thermometers, lighting, ventilation system, alarm system etc. ensure that your cold storage is running healthy. Even the door not closing fully can drastically debilitate the optimal functioning of the cold storage.
We re-emphasize that regular checks & fine-tuning are still cheaper in the long run instead of dealing with a storage breakdown someday which forces you to purchase another cold storage. Do enquire who would be providing the maintenance.
You can avoid buying a standard cold room and purchase a customized one tailored to your needs. It can have glass doors, noiseless gathering unit, skid-proof floor, customized racks, dedicated insulations for sections etc. Cost will be a bit more but that is a one-time spending. If it suits your needs, go for it.
There are cold storage manufacturers who sell commercial cold storages locally and there are those who sell it internationally as well, with variations in quality, pricing, compliance with standards, and designs.
It is always good to research why a cold storage supplier is recommending you a particular manufacturer.
Do take the initiative to reach out to the cold storage manufacturer on calls or emails. Browse through their websites to get an idea of their products and whether they might suit your business requirements.
Warrantee, guarantee and safety
Ask your cold storage dealer if the panels, refrigeration & the cooling hardware etc. are covered under warranty. Discuss with them whether an extended warranty plan will be more cost effective, considering any damage or malfunctioning of the equipment in future.
Try to go for cold room manufacturers offering a guarantee of more than 2 years.
Inspect & acquaint yourself with the safety standard of the prospective cold storage. Enquire about it in depth from the cold room supplier.
Industrial Refrigeration Pvt. Ltd. (IRL) is a pioneer in providing commercial cold storage systems for hospitality, supermarket, pharma and other sectors to cool or freeze food, beverage, meat, fruits and vegetables, chemical or other goods.
Different standard dimensions of cold-room length, width, height for the walk in cooler or walk in freezer and chiller are available at IRL.
We also supply modular walk in freezer & cold room which can easily be disassembled & reassembled if its relocation is required. The cold room panel of our commercial cold room is made of high density (40kg/m3) polyurethane for good insulation. Our cold rooms come with cam lock tongue and groove panel with gasket which ensure perfect sealing of the cold room whereas a digital thermostat enables precise temperature control.
Feel free to get in touch with us for all your cold storage requirements.