Operating a restaurant, café, supermarket, bar, pub or any other similar establishment requires investing in a commercial walk in cooler or walk in freezer to preserve the perishable inventory for longer durations.
Selecting the right walk in freezer for business can impact it positively in the long term. Thus, it mandates a deep analysis of your cooling/freezing requirements to match them with the best walk in cooler.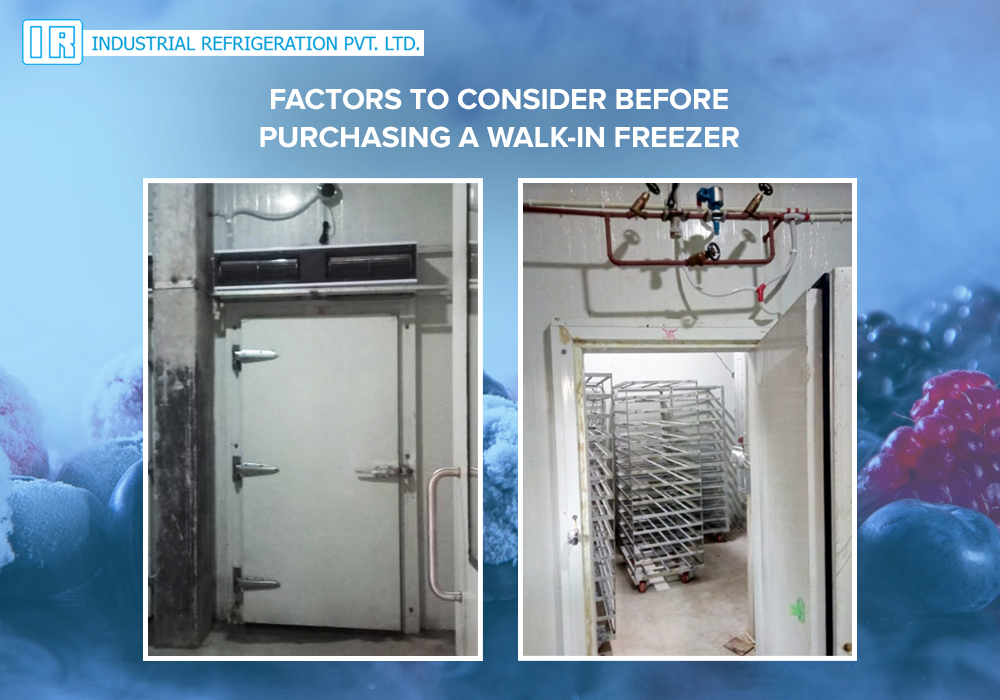 Before You Decide to Buy That Walk in Freezer…
Here are the predominant aspects for your consideration before making the final call on a commercial walk in cooler for your business.
If it is food items you wish to preserve for longer times, clearly identify whether you need a freezer to freeze the food items (< 0°F), or a refrigerator to just cool the food items (between 35°F and 41°F). Depending on the utility, you may need display coolers, floral refrigerators, meat and game lockers (hunting purposes), brew caves in residential bars or setting up a cold storage in warehouses. Each utility must be addressed accordingly.
For instance, kitchens serving 400+ meals daily usually need three walk in refrigerators: one for produce (41°F), one for meats and fish (33°F to 38°F), and one for dairy products (32°F to 41°F).
Address the capacity requirements
Bear in mind that it's not possible to use every sq. ft. of the interior of the commercial walk in freezer. You'll need space for racks, shelves, aisle space to roll bulk of food items in and out, airflow etc.
A rule of thumb is to assign 1.5 cubic feet of walk in storage for every meal served per day. Make an informed guesstimate about the linear feet of shelving you'll need in every section of the walk in freezer and add 40%-50% to it to account for overflow volume increases and loose products. Then multiply this space with the depth of the shelf to arrive at the total 3-D space you'll need.
However, remember that operating costs increase as the size of the freezer increases. The team of experts at IRL can assist you to optimally meet all your freezing or cooling requirements.
Outdoor walk in freezer vs indoor walk in freezer
You may want to install an outdoor walk in cooler or outdoor walk in freezer when space is at a premium and you don't need to increase your kitchen's size. Outdoor walk in freezers are money savers as their installation cost is about 50% lesser than that for indoor kitchen walk in freezers. Also, they vent the heat outside the building and make it very easy to receive food deliveries.
Indoor installations are tricky. You have to manage the already limited space you are available with. Indoor walk in coolers that are self-contained generate a lot of heat to power the cooling system, straining the HVAC system. Clearly, not suitable for a hot & humid location.
Levelling: As carts are often wheeled in and out of the walk in freezer, its floor should be at level with the floor of the location where it is installed. This is achieved by using strips called screeds, applied to the floor.
Panels & insulations: Coolers constructed on site should have wall panel insulation rating of R-30 (i.e. a 4-inch thickness). Panels (of walls, ceilings and floors) are most commonly equipped with polyurethane for insulation from the inside while the outside panels may be of stainless steel (most expensive) or aluminum (least expensive, most weather resistant & thus most popular choice).
Interior lighting: The installer should ensure adequate lighting in the interiors of the walk in cooler. You must be able to turn on the light both from the outside as well as the inside of the cooler, with a LIGHT ON indicator outside. The light bulbs inside the cooler should be unbreakable and vapor proof. LED bulbs consume 90% lesser energy than traditional incandescent bulbs.
Compressor: A compressor of at least 2 horsepower is needed for a 9 sq. ft. walk in freezer. The condenser unit may be located either on top of the walk in directly above the evaporator or around 25 feet away with lines connecting it to the walk in freezer (a remote system). The latter configuration is common in capacities of up to 7.5 horsepower.
Door: The door of the cooler should open out and should come with a heavy-duty door closer and self-closing, cam-lift door hinges. The cam keeps the door opened if it opened past 90° angle. The door should have an interior safety release mechanism so that a person doesn't get accidently locked inside the cooler. Strip curtains (made of transparent or tinted PVC) on the doors act as an extra barrier to keep the cold air inside and the hot air & unwanted airborne particles from coming in.
Shelves: Consider installing epoxy-coated wire shelves that are more durable. They are also rust and water resistant.
Thermometers: Consider placing multiple thermometers in strategic areas of the cooler to ensure a consistent temperature is maintained inside the interior of the walk in cooler/freezer. Thermometers can be coupled with a data logger which records & organizes the temperature data in spreadsheets that are accessible online for download.
Alarm system: It is wise to equip the walk in freezer with an alarm system to notify you of sudden variations in temperatures inside the cooler. For instance, if a door is left open for a long time, the system would detect it and alarm you.
Non-skid tape: When working around a freezing area, skidding and slipping can't be ruled out. To ensure the safety of everyone walking in and out of the freezer, use non-skid tape on the freezer's floor.
Foot treadle: When both your hands are full, it would be a real blessing if you could open the door with your foot by pressing a pedal or lever!
The walk in cooler must be easy to use by your staff so that they can make the best & most of it. The cooler should be easily programmable & its temperature display should be easy to read so that the interior temperature can be regularly and correctly monitored. The doors should open & close smoothly & should have a safety mechanism so that nobody gets trapped inside the cooler.
Poor ventilation will strain the compressor to work extra to draw hotter air away from the cooling unit. An ambient temperature of no more than 80°F is good to go around the compressor. There should be a provision of adequate space (up to 1 feet) around the top, rear & sides of the unit so that fresh air is constantly available for the compressor. You must consider remote compressor system if adequate space is not available.
Obviously, a cheap walk in freezer can be a financial liability in the long term owing to frequent repair costs (or replacements). It can inflate your electricity bill due to poor power efficiency. LED lightings are costly, no doubt, but it will save you costs over the life of the walk in freezer. Do research about the available insulations. Get a clear idea of how much of the R-value will be retained over a considerable period of cooler's operation.
There are manufacturers who sell commercial walk in freezers locally and there are some who sell it internationally as well, with variations in quality, pricing, compliance with standards, and designs. It is always good to ask why a walk in cooler supplier is recommending a particular manufacturer. Do take the initiative to reach out to the manufacturers on calls or emails. Browse through their websites.
Ask your dealer if the panels, refrigeration & walk in cooler hardware etc. are covered under warranty. Will an extended warranty plan be more cost effective, considering any damage or malfunctioning of the equipment?
The walk in cooler should be easy to maintain, clean & repair whenever needed.
Industrial Refrigeration Pvt. Ltd. (IRL) is a pioneer in providing commercial walk in freezer systems for hospitality, supermarket, pharma and other sectors to cool or freeze food, beverage, meat, fruit, vegetable, chemical or other goods.
Different standard dimensions of cold-room length, width, height for the walk in cooler or walk in freezer and chiller are available at IRL.
The modular walk in freezer & cooler cold room can easily be disassembled and reassembled if its relocation is required. The cold room panel of our commercial walk in freezer and walk in cooler chamber is made of high density (40kg/m3) polyurethane for good insulation.
Cam lock tongue and groove panel cold room design with gasket ensure perfect sealing of the walk in cooler & walk in freezer whereas a digital thermostat enables precise temperature control.
We have years of experience manufacturing walk-ins for a wide variety of uses and industries like:
Convenience - Display Coolers & Caves;
Restaurant - Foodservice Walk-Ins;
Floral - Floral Refrigerators;
Grocery - Storage Coolers & Freezers;
Hunting - Meat & Game Lockers;
Residential Bars - Brew Caves;
Warehouse - Cold Storage Warehouses etc.
For an exhaustive account of how we help industries effectively meet their cooling and freezing requirements, feel free to contact us at IRL.