Industrial Refrigeration (IRL) are pioneers in promoting flake ice systems in India.The surface area of flake-ice is quite large and covers the product properly. Also being thin, they do not damage the delicate fish skin. The temperatures of the flakers are almost -4° to -5°C. With these excellent characteristics, flake ice is always used in the processing industries. It plays an important part in sea food industries which is one of major users of flake ice. It is mandatory that any seafood industries should have a flake ice unit based on the production of the sea food in the ratio of 1: 2. Flake ice is used in Dye making. It also plays an important role in concreting. It is important to keep the concrete mix at low temperature to yield superior concrete and to avoid any cracks in concreting. Smaller ranges of flake ice units are made suitable for sea water and can be supplied to Deep sea trawlers & small units within ranges of 1 to 2 tons/24 hrs.Ice flakes are also used in supermarkets.
IRL offers Flake ice units with capacity ranging from 1 ton/24 hours to 100 tons/24 hours. Industrial Refrigeration designs & erects refrigeration system in ammonia or Freon 404A incorporating the flake ice generator.
Application Fields :
Fishery and aquatic food processing
Medium and large chain supermarket
Mine temperature reduction
Food processing
Preservation and cooling field application
Skiing & other sports
Medical facilities
Concrete cooling project.
Dye's chemical industry.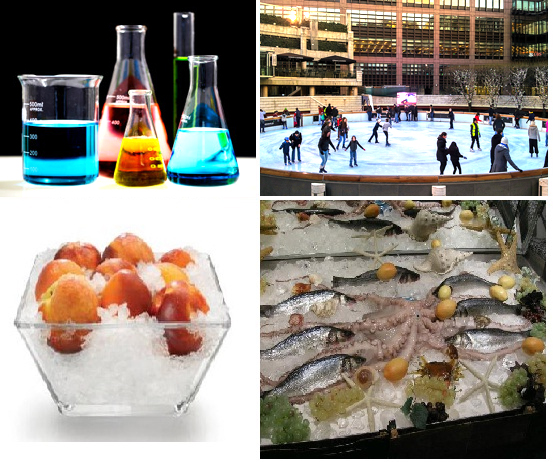 Features :
Scientific design and many years of engineering experience
Safety and sanitation
High reliability and low breakdown rate
High efficiency and energy saving
Simple maintenance and convenient operation
Great adaptability
Outstanding electric control system
Flake Ice advantages :
Directly formed at low temperatures. Ice flakes are as cold as -8°C.
Once formed, Ice flakes are dry, clean, beautiful in shape. Sanitary and convenient.
Relatively big contact area and good mobility can ensure their full contact with refrigerated objects to realize good preservation effect.
Without any acute edges and damage concerns. Ice flakes cannot damage the surfaces of refrigerated objects but are extremely suitable for storage and delivery.
Flake Ice Machine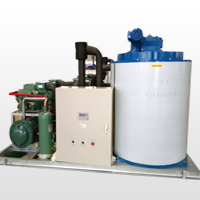 Flake Ice Maker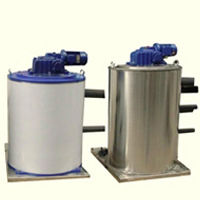 Medium-sized flake ice machine model and performance parameter
Model
Capacity
Refrigeration Capacity
Evaporating Temp.
Reducer Power
Circulating pump power
Compressor
Weight
IR30
3000kg/d
14100kcal
-22 ℃
0.37kw
0.03kw
12hp
1022kg
IR40
4000kg/d
18800kcal
-22 ℃
0.37kw
0.03kw
20hp
1117kg
IR50
5000kg/d
23500kcal
-22 ℃
0.55kw
0.12kw
25hp
1168kg
IR60
6000kg/d
28200kcal
-22 ℃
0.55kw
0.12kw
30hp
1168kg
IR80
8000kg/d
37600kcal
-22 ℃
0.75kw
0.25kw
40hp
1650kg
IR100
10000kg/d
47000kcal
-25 ℃
0.75kw
0.25kw
50hp
1742kg
★ Note: For non-standard demand, please inform us the details.